A complete list of all UOB branches in Singapore. List of all UOB Singapore branches with their location, contact numbers and opening hours.
Also find UOB ATM locations in Singapore and United Overseas Bank Singapore SWIFT codes.
UOB Singapore Overview
With its global business presence and solid associates, UOB branches in Singapore offer comprehensive range of financial services including
Consumer financial services
Corporate and commercial banking
Private banking
Investment banking
Capital market solutions
Treasury services
Corporate finance
Wealth Management
Stock broking services
General insurance
Business capital management
In Singapore, UOB plays simply the market leaders role, when it comes to home loans, credit cards and loans for small businesses. With its extraordinary support, in 2011, it was honoured as the Best Retail Banker in Singapore and The Best SME banking group in the 10th International Excellence in Retail Financial Services Awards Program, organized by Asian Bankers.
The publicly listed global standard bank employs more than 25000 employees and boasts its business network at the tune of US$235.4 billion (2016).
There are 6 types of UOB branches in Singapore. These are (1) Normal banking branch (2) Privilege banking centre (3) Privilege reserve suite (4) Wealth banking centre (5) Branch with extended hours and (6) Branch with Sunday banking. Here is the complete list of UOB Singapore branches with their address, contact numbers and opening hours.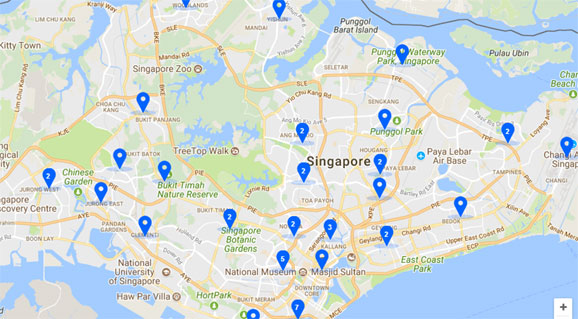 UOB Main Branch Address (Singapore Head Office)
80 Raffles Place
UOB Plaza
Singapore 048624
Telephone Number: (+65) 6533 9898
Fax: (+65) 6534 2334
UOB Contact Numbers
UOB Customer Service for Singapore Customers: 1800 222 2121
UOB Call Centre for Overseas Customers: (+65) 6222 2121
CPF Investment Scheme Enquiries: 1800 538 8011
CashPlus Enquiries: 1800 222 2121
Credit Card Enquiries: 1800 222 2121
Consumer Loans Enquiries: 1800 388 2121
Privilege Concierge Enquiries: 1800 222 9889
UOB Travel Planners Pte Ltd: (+65) 6252 2322
Personal Internet Banking Enquiries: 1800 397 6868
UOB Branches in Singapore
#1. UOB Branch at Ang Mo Kio
53 Ang Mo Kio Avenue 3 #B1-34 AMK Hub
Singapore 569933
Contact Number: 1800 222 2121
Opening Hours
Monday, Tuesday, Wednesday, Thursday, Friday: 11 am – 6 pm
Saturday: 11 am – 4 pm
Sunday: 12 pm – 4 pm
(Long Working Hours and Sunday Open)
---
#2. UOB Singapore Anson Branch
10 Anson Road #01-01 International Plaza
Singapore 079903
Contact: 1800 222 2121
Working Hours
Monday, Tuesday, Wednesday, Thursday, Friday: 9.30am – 4pm
Saturday: 9am – 12.30pm
Sunday: Closed
---
#3. UOB Bank Singapore Bedok Branch
Blk 210 New Upper Changi Road #01-711
Singapore 460210
Contact: 1800 222 2121
Opening Hours
Monday, Tuesday, Wednesday, Thursday, Friday: 9.30am – 4pm
Saturday: 9am – 4pm
Sunday: Closed
(Long Working Hours)
---
#4. UOB Bank Location at Bendemeer
Blk 25 Bendemeer Road #01-561/563
Singapore 330025
Contact: 1800 222 2121
Opening Hours
Monday, Tuesday, Wednesday, Thursday, Friday: 9.30am – 4pm
Saturday: 9am – 12.30pm
Sunday: Closed
---
#5. UOB Singapore Bishan Branch
Blk 501 Bishan Street 11 #01-368/370
Singapore 570501
Contact: 1800 222 2121
Opening Hours
Monday, Tuesday, Wednesday, Thursday, Friday: 9.30am – 4pm
Saturday: 9am – 12.30pm
Sunday: Closed
---
#6. UOB Singapore Boon Lay Branch
325 Boon Lay Place
Singapore 649886
Contact: 1800 222 2121
Opening Hours
Monday, Tuesday, Wednesday, Thursday, Friday: 9.30am – 4pm
Saturday: 9am – 12.30pm
---
#7. UOB Singapore Bukit Batok Central Branch
Blk 634 Bukit Batok Central #01-104/106
Singapore 650634
Contact: 1800 222 2121
Opening Hours
Monday, Tuesday, Wednesday, Thursday, Friday: 9.30am – 4pm
Saturday: 9am – 12.30pm
---
#8. UOB Singapore Bukit Panjang Branch
1 Jelebu Road #02-02 Bukit Panjang Plaza
Singapore 677743
Contact: 1800 222 2121
Opening Hours
Monday, Tuesday, Wednesday, Thursday, Friday: 9.30am – 4pm
Saturday: 9am – 4pm
(Long Working Hours)
---
#9. UOB Singapore Bukit Timah Branch
587 Bukit Timah Road #02-25/26/27/28 Coronation Shopping Plaza
Singapore 269707
Contact: 1800 222 2121
Working Hours
Monday, Tuesday, Wednesday, Thursday, Friday: 9.30am – 4pm
Saturday: 9am – 12.30pm
---
#10. UOB Singapore Changi Airport Branch
Airport Boulevard #B16-17 Singapore Changi Airport Passenger Terminal 2 Building
Singapore 819643
Contact: 1800 222 2121
Opening Hours
Monday, Tuesday, Wednesday, Thursday, Friday: 9.30am – 4pm
Saturday: 9am – 12.30pm
---
#11. UOB Singapore City Plaza Branch
810 Geylang Road #01-51/55 City Plaza
Singapore 409286
Contact: 1800 222 2121
Opening Hours
Monday, Tuesday, Wednesday, Thursday, Friday: 9.30am – 4pm
Saturday: 9am – 12.30pm
---
#12. UOB Singapore Clementi Branch
Blk 450 Clementi Avenue 3 #01-287/289
Singapore 120450
Contact: 1800 222 2121
Opening Hours
Monday, Tuesday, Wednesday, Thursday, Friday: 9.30am – 4pm
Saturday: 9am – 12.30pm
---
#13. UOB Singapore Coleman Branch
1 Coleman Street #01-14 The Adelphi
Singapore 179803
Contact: 1800 222 2121
Opening Hours
Monday, Tuesday, Wednesday, Thursday, Friday: 9.30am – 4pm
Saturday: 9am – 12.30pm
---
#14. UOB Singapore Farrer Park Branch
1 Farrer Park Station Road #01-13 Connexion
Singapore 217562
Contact: 1800 222 2121
Opening Hours
Monday, Tuesday, Wednesday, Thursday, Friday: 9.30am – 4pm
Saturday: 9am – 12.30pm
---
#15. UOB Singapore Great World City Branch
1 Kim Seng Promenade #01-34 Great World City
Singapore 237994
Contact: 1800 222 2121
Opening Hours
Monday, Tuesday, Wednesday, Thursday, Friday: 9.30am – 4pm
Saturday: 9am – 12.30pm
---
#16. UOB Singapore Holland Branch
211 Holland Avenue #01-12 Holland Road Shopping Centre
Singapore 278967
Contact: 1800 222 2121
Opening Hours
Monday, Tuesday, Wednesday, Thursday, Friday: 9.30am – 4pm
Saturday: 9am – 12.30pm
---
#17. UOB Singapore Hougang Branch
Blk 108 Hougang Avenue 1 #01-1313/1315
Singapore 530108
Contact: 1800 222 2121
Opening Hours
Monday, Tuesday, Wednesday, Thursday, Friday: 9.30am – 4pm
Saturday: 9am – 12.30pm
---
#18. UOB Singapore Hougang MRT Branch
80 Hougang Central #01-01 Hougang MRT Station Singapore 538758
Contact: 1800 222 2121
Opening Hours
Monday, Tuesday, Wednesday, Thursday, Friday: 9.30am – 4pm
Saturday: 9am – 12.30pm
---
#19. UOB Singapore Jalan Sultan Branch
200 Jalan Sultan #01-06 Textile Centre Singapore 199018
Contact: 1800 222 2121
Opening Hours
Monday, Tuesday, Wednesday, Thursday, Friday: 9.30am – 4pm
Saturday: 9am – 12.30pm
---
#20. UOB Singapore Jem Branch
50 Jurong Gateway Road #02-15 Jem
Singapore 608549
Contact: 1800 222 2121
Opening Hours
Monday, Tuesday, Wednesday, Thursday, Friday: 11am – 6pm
Saturday: 11am – 4pm
Sunday: 12pm – 4pm
(Long Working Hours and Sunday Open)
---
#21. UOB Singapore Jurong Point Branch
1 Jurong West Central 2 #01-16C Jurong Point Shopping Centre
Singapore 648886
Contact: 1800 222 2121
Opening Hours
Monday, Tuesday, Wednesday, Thursday, Friday: 11am – 6pm
Saturday: 11am – 4pm
(Long Working Hours)
---
#22. UOB Singapore Main Branch
80 Raffles Place UOB Plaza 1
Singapore 048624
Contact: 1800 222 2121
Opening Hours
Monday, Tuesday, Wednesday, Thursday, Friday: 9.30am – 4pm
Saturday: 9am – 12.30pm
---
#23. UOB Singapore Main Branch (FEB)
156 Cecil Street #01-00 Far Eastern Bank Building
Singapore 069544
Contact: 1800 222 2121
Opening Hours
Monday, Tuesday, Wednesday, Thursday, Friday: 9.30am – 4pm
Saturday: 9am – 12.30pm
---
#24. UOB Singapore Marina Bay Financial Centre
10 Marina Boulevard #01-02 MBFC Tower 2
Singapore 018983
Contact: 1800 222 2121
Opening Hours
Monday, Tuesday, Wednesday, Thursday, Friday: 9.30am – 4pm
Saturday: 9am – 12.30pm
---
#25. UOB Singapore New Bridge Branch
1 Park Road #01-01/02 People's Park Complex
Singapore 059108
Contact: 1800 222 2121
Opening Hours
Monday, Tuesday, Wednesday, Thursday, Friday: 9.30am – 4pm
Saturday: 9am – 12.30pm
---
#26. UOB Singapore Northpoint Branch
930 Yishun Avenue 2 #01-37/38 Northpoint Shopping Centre
Singapore 769098
Contact: 1800 222 2121
Opening Hours
Monday, Tuesday, Wednesday, Thursday, Friday: 11am – 6pm
Saturday: 11am – 4pm
(Long Working Hours)
---
#27. UOB Singapore Novena Square Branch
238A Thomson Road #01-38 Novena Square
Singapore 307685
Contact: 1800 222 2121
Opening Hours
Monday, Tuesday, Wednesday, Thursday, Friday: 9.30am – 4pm
Saturday: 9am – 4pm
(Long Working Hours)
---
#28. UOB Singapore Orchard Branch
230 Orchard Road #01-230 Faber House
Singapore 238854
Contact: 1800 222 2121
Opening Hours
Monday, Tuesday, Wednesday, Thursday, Friday: 9.30am – 4pm
Saturday: 9am – 4pm
(Long Working Hours)
---
#29. UOB Singapore Parkway Parade Branch
80 Marine Parade Road #01-13 Parkway Parade
Singapore 449269
Contact: 1800 222 2121
Opening Hours
Monday, Tuesday, Wednesday, Thursday, Friday: 10.30am – 5pm
Saturday: 9am – 4pm
(Long Working Hours)
---
#30. UOB Singapore Pasir Ris Branch
Blk 443 Pasir Ris Drive 6 #01-20/22
Singapore 510443
Contact: 1800 222 2121
Opening Hours
Monday, Tuesday, Wednesday, Thursday, Friday: 9.30am – 4pm
Saturday: 9am – 12.30pm
---
#31. UOB Singapore Raffles City Branch
252 North Bridge Road #B1-04/05 Raffles City Shopping Centre
Singapore 179103
Contact: 1800 222 2121
Opening Hours
Monday, Tuesday, Wednesday, Thursday, Friday: 9.30am – 4pm
Saturday: 9am – 4pm
(Long Working Hours)
---
#32. UOB Singapore Rochor Branch
149 Rochor Road #01-26 Fu Lu Shou Complex
Singapore 188425
Contact: 1800 222 2121
Opening Hours
Monday, Tuesday, Wednesday, Thursday, Friday: 9.30am – 4pm
Saturday: 9am – 12.30pm
---
#33. UOB Singapore Shaw Centre Branch
1 Scotts Road #03-04 Shaw Centre
Singapore 228208
Contact: 1800 222 2121
Opening Hours
Monday, Tuesday, Wednesday, Thursday, Friday: 11am – 6pm
Saturday: 11am – 4pm
(Long Working Hours)
---
#34. UOB Singapore Serangoon Central Branch
23 Serangoon Central #01-52/53 nex
Singapore 556083
Contact: 1800 222 2121
Opening Hours
Monday, Tuesday, Wednesday, Thursday, Friday: 11am – 6pm
Saturday: 11am – 4pm
Sun: 12pm – 4pm
(Long Working Hours and Sunday Open)
---
#35. UOB Singapore Serangoon Garden Branch
69 Serangoon Garden Way
Singapore 555965
Contact: 1800 222 2121
Opening Hours
Monday, Tuesday, Wednesday, Thursday, Friday: 9.30am – 4pm
Saturday: 9am – 12.30pm
---
36. UOB Singapore Suntec City Branch
3 Temasek Boulevard #02-735 / 736 Suntec City Mall
Singapore 038983
Contact: 1800 222 2121
Opening Hours
Monday, Tuesday, Wednesday, Thursday, Friday: 11am – 6pm
Saturday: 11am – 4pm
(Long Working Hours)
---
#37. UOB Singapore Tai Seng Branch
30 Tai Seng Street #01-01 Breadtalk IHQ
Singapore 534013
Contact: 1800 222 2121
Opening Hours
Monday, Tuesday, Wednesday, Thursday, Friday: 9.30am – 4pm
Saturday: 9am – 12.30pm
---
#38. UOB Singapore Tampines Branch
1 Tampines Central 1 #01-01 UOB Tampines Centre
Singapore 529539
Contact: 1800 222 2121
Opening Hours
Monday, Tuesday, Wednesday, Thursday, Friday: 9.30am – 4pm
Saturday: 9am – 4pm
(Long Working Hours)
---
#39. UOB Singapore Thomson Branch
251-253 Upper Thomson Road
Singapore 574376
Contact: 1800 222 2121
Opening Hours
Monday, Tuesday, Wednesday, Thursday, Friday: 9.30am – 4pm
Saturday: 9am – 12.30pm
---
#40. UOB Singapore Tiong Bahru Plaza Branch
302 Tiong Bahru Road #01-101/102 Tiong Bahru Plaza
Singapore 168732
Contact: 1800 222 2121
Opening Hours
Monday, Tuesday, Wednesday, Thursday, Friday: 10.30am – 5pm
Saturday: 9am – 4pm
(Long Working Hours)
---
#41. UOB Singapore Toa Payoh Branch
Blk 520 Toa Payoh Lorong 6 #02-51
Singapore 310520
Contact: 1800 222 2121
Opening Hours
Monday, Tuesday, Wednesday, Thursday, Friday: 9.30am – 6pm
Saturday: 9am – 4pm
(Long Working Hours)
---
#42. UOB Singapore Upper Bukit Timah Branch
148 Upper Bukit Timah Road #01-01 UOB Centre
Singapore 588178
Contact: 1800 222 2121
Opening Hours
Monday, Tuesday, Wednesday, Thursday, Friday: 9.30am – 4pm
Saturday: 9am – 12.30pm
---
#43. UOB Singapore Vivo City Branch
1 HarbourFront Walk #B2-35/36 Vivo City
Singapore 098585
Contact: 1800 222 2121
Opening Hours
Monday, Tuesday, Wednesday, Thursday, Friday: 11am – 6pm
Saturday: 11am – 4pm
Sun: 11am – 9pm
(Long Working Hours and Sunday Open)
---
#44. UOB Singapore Waterway Point Branch
83 Punggol Central #01-01 Waterway Point
Singapore 828761
Contact: 1800 222 2121
Opening Hours
Monday, Tuesday, Wednesday, Thursday, Friday: 11am – 6pm
Saturday: 11am – 4pm
Sun: 12pm – 4pm
(Long Working Hours and Sunday Open)
---
#45. UOB Singapore Woodlands Branch
900 South Woodlands Drive #01-06 Woodlands Civic Centre
Singapore 730900
Contact: 1800 222 2121
Opening Hours
Monday, Tuesday, Wednesday, Thursday, Friday: 9.30am – 4pm
Saturday: 9am – 4pm
#46. UOB Privilege Banking Centre – Bukit Timah
587 Bukit Timah Road #01-02 Coronation Shopping Plaza
Singapore 269707
Contact: 1800 222 9889
Opening Hours
Monday, Tuesday, Wednesday, Thursday, Friday: 9.30am – 5pm
Saturday: 9am – 12.30pm
---
#47. UOB Privilege Banking Centre – Mount Elizabeth
3 Mount Elizabeth Medical Centre #01-03/05
Singapore 228510
Contact: 1800 222 9889
Opening Hours
Monday, Tuesday, Wednesday, Thursday, Friday: 9.30am – 5pm
Saturday: 9am – 12.30pm
---
#48. UOB Privilege Banking Centre – Marina Bay Financial Centre
10 Marina Boulevard #01-01 MBFC Tower 2
Singapore 018983
Contact: 1800 222 9889
Opening Hours
Monday, Tuesday, Wednesday, Thursday, Friday: 9.30am – 5pm
Saturday: 9am – 12.30pm
---
#49. UOB Privilege Banking Centre – Orchard
268 Orchard Road #11-01
Singapore 238856
Contact: 1800 222 9889
Opening Hours
Monday, Tuesday, Wednesday, Thursday, Friday: 9.30am – 5pm
Saturday: 9am – 12.30pm
---
#50. UOB Privilege Banking Centre – Parkway Parade
80 Marine Parade Road #01-13 Parkway Parade
Singapore 449269
Contact: 1800 222 9889
Opening Hours
Monday, Tuesday, Wednesday, Thursday, Friday: 10.30am – 5pm
Saturday: 9am – 12.30pm
---
#51. UOB Privilege Banking Centre – Raffles Place
1 Raffles Place #01-00 One Raffles Place
Singapore 048616
Contact: 1800 222 9889
Opening Hours
Monday, Tuesday, Wednesday, Thursday, Friday: 9.30am – 5pm
Saturday: 9am – 12.30pm
---
#52. UOB Privilege Banking Centre – Serangoon Garden
73 Serangoon Garden Way
Singapore 555969
Contact: 1800 222 9889
Opening Hours
Monday, Tuesday, Wednesday, Thursday, Friday: 9.30am – 5pm
Saturday: 9am – 12.30pm