The complete list of Citibank Singapore branches including their opening hours, locations and contact numbers. Locate Citibank branches near you.
Citibank Singapore Overview
As a Qualifying Full Bank in Singapore, the banking corporation has an entitlement to open 25 Citibank branches from 1st Jan 2005. Citibank Singapore branches are divided into four zones (North, Central/South, East, West). The bank offers shared ATM service network to its clients coupled with HSBC, Maybank, State Bank of India, The Royal Bank of Scotland, Standard Chartered and Bank of China.
Some of its key Citibank branches in Singapore are located at Asia Square, Punggol, Woodlands, Capital Square, Paragon Citigold Private Client Centre, Orchard Paragon, Parkway Parade, and Holland Village and so on.
Products and Services Available at Citibank Singapore Branches
Citibank Singapore offers specialized banking services its customers including
Cash Management
Loans
Foreign exchange facilities
Credit Cards
Trade funding and advisory
Insurance and other Value added service solutions
When it comes to corporate CSR, Citibank Singapore is acknowledged as a key sponsor for Singapore's Prestige Brand Award (SPBA) organized by the Association of Small & Medium Enterprises.
Citibank Singapore Head Office Address
23 Church Street #01-01
Singapore 049481
Citibank Singapore Contact
Phone Number: (+65) 6225 5221
CitiPhone Phone Banking: (+65) 6225 5225 (24 Hours)
Internet Support Number: (+65) 6338 2228
Also, find Citibank ATMs in Singapore and Citibank Singapore SWIFT Codes / Branch Codes.
List of Citibank Singapore Branches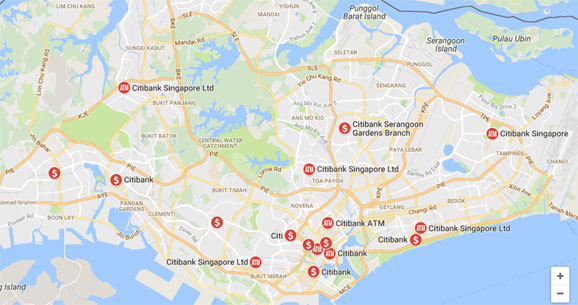 #1. Citibank Branch at Punggol
83, Punggol Central, Waterway Point, #01-17
Singapore 828761
Citibank Opening Hours (Citibanking)
Monday to Friday: 10:30am – 7:30pm
Saturday, Sunday & Public Holiday: 11am – 8pm
Cash Opening Hours (Citibanking)
Monday to Friday: 10:30am – 7:30pm
Saturday, Sunday & Public Holiday: 11am – 7:30pm
---
#2. Citibank Serangoon Gardens Branch
53 Serangoon Garden Way
Singapore 555949
Citibank Singapore Opening Hours (Citigold)
Monday to Friday: 9.30am – 6pm
Saturday: 9.30am – 12pm
Sunday & Public Holidays: Closed
Citibank Singapore Opening Hours (Citibanking)
Monday to Friday: 9.30am – 3.30pm
Saturday: 9.30am – 12pm
Sunday & Public Holidays: Closed
Citibank Cash Opening Hours (Citigold)
Monday to Friday: 9.30am – 5pm
Saturday: 9.30am – 12pm
Sunday & Public Holidays: Closed
Citibank Cash Opening Hours (Citibanking)
Monday to Friday: 9.30am – 3.30pm
Saturday: 9.30am – 12pm
Sunday & Public Holidays: Closed
---
#3. Citibank Woodlands Branch
30 Woodlands Avenue 2, #01-42/43
Singapore 738343
Citibank Branch Opening Hours (Citibanking)
Monday to Friday: 8am – 8pm
Saturday, Sunday and Public Holidays: 10 am to 8 pm
---
#4. Citibank Asia Square Branch
8 Marina View, Asia Square Tower 1
Singapore 018960
---
#5. Citibank Bugis SMRT Station – Instant Banking Centre
220 Victoria Street #B1-02
Singapore 188022
---
#6. Citibank Branch Opening Hours
Monday to Friday: 8am – 8pm
Saturday, Sunday and Public Holidays: 10 am – 8 pm
Non-cash branch
---
#7. Capital Square Branch (Main Branch)

23 Church Street #01-01
Singapore 049481
---
#8. Citibank City Hall SMRT Station – Instant Banking Centre
150 North Bridge Road #B1-01
Singapore 179100
---
#9. Citibank Orchard (MacDonald House) Branch
40A Orchard Road Ground Floor
Singapore 238838
---
#10. Citibank Orchard SMRT Station – Instant Banking Centre
437 Orchard Road, #B2-01
Singapore 238878
---
#11. Citibank Paragon Branch
290 Orchard Road Paragon
Singapore 238859
---
#12. Citibank Paragon Citigold Private Client Centre
290 Orchard Road
Singapore 238859
---
#13. Citibank Paragon – Instant Banking Centre
290 Orchard Road #01-25B Paragon
Singapore 238859
---
#14. Citibank Tiong Bahru SMRT Station – Instant Banking Centre
300 Tiong Bahru Road #B1-01
Singapore 168731
---
#15. Citibank VivoCity – Instant Banking Centre
1 Harbourfront Walk #01-05 VivoCity
Singapore 098585
---
#16. Citibank Changi Business Park – Instant Banking Centre
3 Changi Business Park Crescent Level 1
Singapore 486026
Citibank Opening Hours
Monday to Friday: 10am – 5pm
Saturday, Sunday and Public Holidays: Closed
---
#17. Citibank Branch at Parkway Parade
80 Marine Parade Road
Singapore 449269
---
#18. Citibank Tampines SMRT Station – Instant Banking Centre
20 Tampines Central 1, #01-14
Singapore 529538
---
#19. Citibank Boon Lay SMRT Station – Instant Banking Centre
301 Boon Lay Way #01-15
Singapore 649846
---
#20. Citibank Operating Hours
Monday to Friday: 8am – 8pm
Saturday, Sunday and Public Holidays: 10am – 8pm
---
#21. Citibank Holland Village Branch
259 Holland Avenue
Singapore 278985
---
#22. Citibank Jurong East Branch
21 Jurong Gateway Road, CPF Jurong Building, #02-07/08
Singapore 608546