The complete list of OCBC branches in Singapore. Use this OCBC branch locator to find your nearest OCBC branch in Singapore.
OCBC Bank Overview
Outfitted with over 610 OCBC branches, diplomat offices in 18 countries OCBC's financial market is stretched through Singapore, Indonesia, Malaysia and Greater China.
It has thick market network especially in Indonesia with 340 OCBC branches and offices administered by its subsidiary OCBC NISP; and crossing more than 100 branches in China, Hong Kong and Macau under OCBC's Wing Hang China management. Together with its list of subsidiaries it offers across-the-board financial services including
Consumer banking
Corporate/ commercial banking
Investment banking
Transaction banking
Global wealth management
Asset management
Insurance
Foreign exchange (global treasury)
Capital market
Stock broking services
OCBC's insurance ancillary Great Eastern Holdings has emerged as the most consistent, well-organized and oldest life insurance group in Singapore and Malaysia while Lion Global Investors; its wealth management subsidiary is considered amongst largest private-sector asset management groups in Southeast Asia.
OCBC Securities and OCBC Securities are two major subsidiaries focused on Brokerage services and Capital market. Having been listed on the SGX-ST, OBCS employs 29000+ employees internationally. With a net worth of US$ 283.7 billion, the largest Singapore banks have more than 1200 ATMs located at MRT stations, major shopping centres, NTUC outlets, petrol stations and more.
There are 6 types of OCBC Bank branches- Normal Banking, Sunday Banking branches, Premier Banking Centres, FRANK Stores, Business Centres and Trade Service Centres. Here is the complete list of OCBC branch locations in Singapore.
OCBC Singapore Head Office Address
65 Chulia St
#01-00 OCBC Centre
Singapore 049513
Contact Number: 1800 363 3333
OCBC SWIFT Code/ OCBC Bank Code: OCBCSGSG
OCBC Customer Support Contact Numbers
For Personal Banking
– 1800 363 3333
– (+65) 6363 3333 from outside Singapore
Business Banking
– (+65) 6538 1111
Also, find OCBC ATM locations in Singapore.
List of OCBC Branch Locations in Singapore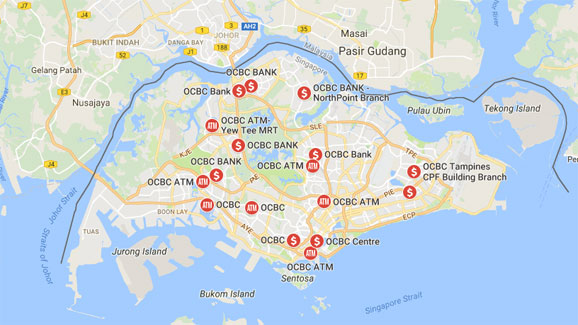 #1. OCBC Ang Mo Kio Branch
629 Ang Mo Kio Ave 4
#01-1006/1008/1010
Singapore 560629
OCBC Branch Opening Hours
Monday to Friday: 9.00am – 4.30pm
Saturday: 9.00am – 11.30am
Sundays and Public Holidays: Closed
---
#2. OCBC Branch at Ang Mo Kio Central
53 Ang Mo Kio Avenue 3
#B1-32/33 AMK Hub
Singapore 569933
OCBC Operating Hours
Monday to Sunday: 11.00am – 7.00pm
Public Holidays: Closed
(with Premier Banking centre)
---
#3. OCBC Balestier Road Branch
360 Balestier Road
#01-14/15 Shaw Plaza – Twin Heights
Singapore 329783
OCBC Branch Operating Hours
Monday to Friday: 9.00am – 4.30pm
Saturday: 9.00am – 11.30am
Sundays and Public Holidays: Closed
---
#4. OCBC Bedok Branch
204 Bedok North St 1
#01-403/405/407
Singapore 460204
OCBC Branch Opening Hours
Monday to Sunday: 11.00am – 7.00pm
Public Holidays: Closed
(with Premier Banking centre)
---
#5. OCBC Bedok North Branch
88 Bedok North St 4
#01-163
Singapore 460088
OCBC Branch Opening Hours
Monday to Friday: 9.00am – 4.30pm
Saturday: 9.00am to 11.30am
Sundays and Public Holidays: Closed
---
#6. OCBC Bishan Branch
501 Bishan St 11
#01-372/374
Singapore 570501
OCBC Bishan Branch Operating/Opening Hours
Monday to Friday: 9.00am – 4.30pm
Saturday: 9.00am – 11.30am
Sundays and Public Holidays: Closed
---
#7. OCBC Bukit Batok Branch
634 Bukit Batok Central
#01-108
Singapore 650634
OCBC Working Hours
Monday to Friday: 9.00am – 4.30pm
Saturday: 9.00am to 11.30am
Sundays and Public Holidays: Closed
---
#8. Bukit Batok Business Banking Centre
Blk 637 Bukit Batok Central
#01-16
Singapore 650637
OCBC Opening Hours
Monday to Friday: 9.30am – 5.00pm
Saturdays, Sundays and Public Holidays: Closed
(Business Loan Centre)
---
#9. OCBC Bukit Panjang Branch
257 Bangkit Rd
#01-51/55
Singapore 670257
OCBC Operating Hours
Monday to Friday: 9.00am – 4.30pm
Saturday: 9.00am – 11.30am
Sundays and Public Holidays: Closed
---
#10. OCBC Bukit Timah Branch
170 Upper Bukit Timah Rd
#01-01 Bukit Timah Shopping Centre
Singapore 588179
OCBC Bank Operating Hours
Monday to Friday: 9.00am – 4.30pm
Saturday: 9.00am – 11.30am
Sundays and Public Holidays: Closed
---
#11. OCBC Bank Causeway Point Branch
1 Woodlands Square
#01-16 Causeway Point
Singapore 738099
OCBC Bank Opening Hours
Monday to Sunday: 11.00am – 7.00pm
Public Holidays: Closed
---
#12. OCBC Choa Chu Kang Branch
304 Choa Chu Kang Ave 4
#01-663
Singapore 680304
OCBC Bank Operating Hours
Monday to Sunday: 11.00am – 7.00pm
Public Holidays: Closed
---
#13. OCBC Branch at City Square Mall
180 Kitchener Road
#02-01/02
Singapore 208539
OCBC Bank Branch Opening Hours
Monday to Friday: 11.00am – 7.00pm
Saturday: 11.00am to 1.30pm
Sundays and Public Holidays: Closed
---
#14. OCBC Clementi Branch in Singapore
3155 Commonwealth Avenue West
#04-52 to 55 The Clementi Mall
Singapore 129588
OCBC Bank Branch Operating Hours
Monday to Sunday: 11.00am – 7.00pm
Public Holidays: Closed
---
#15. OCBC Compass One Branch
1 Sengkang Square
#02-04 Compass One
Singapore 545078
OCBC Branches Operating Hours
Monday to Sunday: 11.00am – 7.00pm
Public Holidays: Closed
---
#16. OCBC HarbourFront Branch
1 Maritime Square
#02-99/100 HarbourFront Centre
Singapore 099253
OCBC HarbourFront Branch Opening Hours
Monday to Sunday: 11.00am – 7.00pm
Public Holidays: Closed
---
#17. OCBC Holland Village Branch
249 Holland Ave
Singapore 278980
Operating Hours
Monday to Friday: 11am – 7pm
Saturday: 11am to 1.30pm
Sundays and Public Holidays: Closed
(with Premier Banking centre)
---
#18. OCBC Hougang Branch
211 Hougang St 21
#01-295
Singapore 530211
Opening Hours
Monday to Friday: 9.00am – 4.30pm
Saturday: 9.00am – 11.30am
Sundays and Public Holidays: Closed
---
#19. OCBC Hougang Mall Branch
90 Hougang Ave 10
#01-01 to 05 Hougang Mall
Singapore 538766
Operating Hours
Monday to Sunday: 11.00am – 7.00pm
Public Holidays: Closed
(with Premier Banking centre)
---
#20. OCBC ION Orchard Branch
2 Orchard Turn
#B2-57
Singapore 238801
OCBC Orchard Operating Hours
Monday to Sunday: 11.00am – 7.00pm
Public Holidays: Closed
(with Premier Banking centre)
---
#21. OCBC Jurong East Branch
50 Jurong Gateway Road
#B1-18 Jem
Singapore 608549
OCBC Jurong East Operating Hours
Monday to Sunday: 11.00am – 7.00pm
Public Holidays: Closed
---
#22. OCBC Jurong Point Branch
1 Jurong West Central 2
#B1-31/32/33/46 Jurong Point Shopping Centre
Singapore 648886
OCBC Operating Hours
Monday to Sunday: 11.00am – 7.00pm
Public Holidays: Closed
---
#23. OCBC Jurong West Branch
502 Jurong West Ave 1
#01-821
Singapore 640502
OCBC Jurong West Operating Hours
Monday to Friday: 9.00am – 4.30pm
Saturday: 9.00am – 11.30am
Sundays and Public Holidays: Closed
---
#24. OCBC Branch at Kallang Wave
1 Stadium Place #01-66/67, Kallang Wave
Singapore 397628
Operating Hours
Monday to Friday: 11.00am – 7pm
Saturday: 11.00am – 3pm
Sunday and Public Holiday: Closed
(Premier Teller Counter Service closes at 6.30pm)
---
#25. OCBC Marina Bay Financial Centre Branch
10 Marina Boulevard
#01-04, Marina Bay Financial Centre Tower 2
Singapore 018983
Operating Hours
Monday to Friday: 9.00am – 4.30pm
Saturday: 9.00am – 11.30am
Sundays and Public Holidays: Closed
(with Premier Banking centre)
---
#26. OCBC Marine Parade Branch
83 Marine Parade Central
#01-576/578
Singapore 440083
Operating Hours
Monday to Sunday: 11.00am – 7.00pm
Public Holidays: Closed
---
#27. Nanyang Technological University FRANK Store
50 Nanyang Avenue Blk NS3-01-10
Academic Complex North
Nanyang Technological University
Singapore 639798
Operating Hours
Monday to Friday: 9.00am – 4.30pm
Saturday, Sunday & Public Holiday: Closed
---
#28. OCBC NEX Branch
23 Serangoon Central
#B2-28/29
Singapore 556083
Operating Hours
Monday to Sunday: 11.00am – 7.00pm
Public Holidays: Closed
(with Premier Banking centre)
---
#29. OCBC North Branch
460 North Bridge Road
#01-00
Singapore 188734
Operating Hours
Monday to Friday: 9.00am – 4.30pm
Saturday: 9.00am to 11.30am
Sundays and Public Holidays: Closed
---
#30. OCBC Northpoint Branch
930 Yishun Ave 2
#B1-36 Northpoint City
Singapore 769098
Opening Hours
Mon – Sun: 11.00am to 7.00pm
Public Holidays: Closed
---
#31. OCBC Centre Branch (Main Branch)
65 Chulia St
#01-00 OCBC Centre
Singapore 049513
Opening Hours
Monday to Friday: 9.00am – 4.30pm
Saturday: 9.00am – 11.30am
Sundays and Public Holidays: Closed
(with Premier Banking centre)
---
#32. OCBC Orchardgateway Branch
277 Orchard Road,
orchardgateway, #01-16, #B1-12 & #B2-12
Singapore 238858
Opening Hours
Monday to Sunday: 11.00am – 7.00pm
Public Holidays: Closed
(with Premier Banking centre)
---
#33. OCBC Paya Lebar Square Branch
60 Paya Lebar Road
#01-45/46/52/53
Singapore 409051
Operating Hours
Monday to Friday: 11am – 7pm
Saturday: 11am to 1.30pm
Sundays and Public Holidays: Closed
---
#34. OCBC Serangoon Garden Branch
86/88 Serangoon Garden Way
Singapore 555982
Operating Hours
Monday to Friday: 9.00am – 4.30pm
Saturday: 9.00am – 11.30am
Sundays and Public Holidays: Closed
(with Premier Banking centre)
---
#35. OCBC Singapore Polytechnic FRANK Store
500 Dover Road
Singapore Polytechnic, Food Court 5 (FC512)
Singapore 139651
Operating Hours
Monday to Friday: 9.00am – 4.30pm
Saturday, Sunday & Public Holiday: Closed
(Teller service from 9am to 12.30pm, No Business Account Opening Services)
---
#36. OCBC Sixth Avenue Branch
827 Bukit Timah Road
Singapore 279886
Operating Hours
Monday to Friday: 9.00am – 4.30pm
Saturday: 9.00am – 11.30am
Sundays and Public Holidays: Closed
(with Premier Banking centre)
---
#37. OCBC SMU FRANK Store
70 Stamford Road
#B1-43 Singapore Management University
(Business Banking services are not available)
Singapore 178901
Operating Hours
Monday to Friday: 9.00am – 4.30pm
Saturday, Sunday & Public Foliday: Closed
---
#38. OCBC Sun Plaza Branch
30 Sembawang Drive
#02-05 Sun Plaza
Singapore 757713
Operating Hours
Monday to Friday: 11am – 7pm
Saturday: 11am – 1.30pm
Sundays and Public Holidays: Closed
---
#39. OCBC Suntec City Branch
3 Temasek Boulevard
Suntec City Mall
#02-411/412
Singapore 038983
OCBC Operating Hours
Monday to Friday: 11am – 7pm
Saturday: 11am to 1.30pm
Sundays and Public Holidays: Closed
---
#40. OCBC Tampines Branch
1 Tampines Central 5
#01-02 Tampines CPF Building
Singapore 529508
OCBC Tampines Operating Hours/ Branch Opening Hours
Monday to Sunday: 11am to 7pm
Public Holidays: Closed
---
#41. OCBC Thomson Branch
181 Upper Thomson Road
Singapore 574331
OCBC Operating Hours
Monday to Friday: 9.00am – 4.30pm
Saturday: 9.00am – 11.30am
Sundays and Public Holidays: Closed
(with Premier Banking centre)
---
#41. OCBC Tiong Bahru Plaza Branch
302 Tiong Bahru Road
#01-125/126
Tiong Bahru Plaza
Singapore 168732
Operating Hours
Monday to Sunday: 11.00am – 7.00pm
Public Holidays: Closed
---
#42. OCBC Toa Payoh Central Branch
520 Lorong 6 Toa Payoh
#02-52/53
Singapore 310520
Opening Hours
Monday to Sunday: 11.00am – 7.00pm
Public Holidays: Closed
---
#43. Ubi Business Banking Centre
Blk 302 Ubi Ave 1
#01-59/ 63
Singapore 400302
Working Hours
Monday to Friday: 10.00am – 5.30pm
Saturdays, Sundays and Public Holidays: Closed
---
#44. VivoCity FRANK Store
1 HarbourFront Walk
#01-160 VivoCity
Singapore 098585
Operating Hours
Monday to Sunday: 11.00am – 7.00pm
Public Holidays: Closed
---
#45. OCBC Waterway Point Branch
83 Punggol Central
#01-13 Waterway Point
Singapore 828761
Operating Hours
Monday to Sunday: 11.00am – 7.00pm
Public Holidays: Closed
---
#46. OCBC White Sands Branch
1 Pasir Ris Central St 3
White Sands, #01-13
Singapore 518457
Operating Hours
Monday to Friday: 11am – 7pm
Saturday: 11am – 1.30pm
Sundays and Public Holidays: Closed
---
#47. Woodlands Branch
303 Woodlands St 31
#01-159/161
Singapore 730303
Operating Hours
Monday to Friday: 9.00am – 4.30pm
Saturday: 9.00am – 11.30am
Sundays and Public Holidays: Closed