List of all 6 SBI Singapore branches and 21 ATMs with their address, contact numbers and working hours including Saturday and Sunday Banking.
SBI Singapore Overview
SBI Singapore branches offer wide-ranging banking products and services designed for retail, commercial and wholesale banking services. The services offered by SBI Singapore are as follows
Retail Banking
Savings/ Term/ Recurring and Current Accounts
Fixed Deposits
Multi-optional and Sweep Deposits
Mortgage Loans/ Personal Loans
Personal Insurance
Investment Products
Remittance services
Home and Car Loans
Commercial/ Wholesale Services
Corporate Loans/ Deposits
Commercial Finance
Corporate Escrow Services
Corporate Remittance Worldwide Services
NRI Services
Non-Resident External and Ordinary Accounts
Foreign Currency NRI Deposits
There are total 6 SBI Singapore branches and 21 own ATMs while it enables its customers to access 180 ATM machines. Here is the full list of State Bank of India Singapore branch addresses, contact numbers and working hours. This list also included locations of SBI Singapore ATMs.
SBI Singapore Branches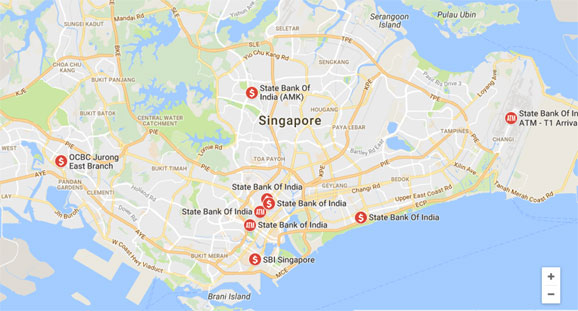 #1. SBI ANG MO KIO
Block 710A Ang Mo Kio Avenue 8
#01- 2633
Singapore 561710
Contact Number: (+65) 6506 4255
Email: [email protected]
SBI ANG MO KIO Working Hours
Monday, Tuesday, Wednesday, Thursday, Friday: 11.00am – 6.30pm
Saturday: 9.30am – 12.30pm
Sunday and Public Holiday: Closed
---
#2. SBI CECIL STREET BRANCH
135 Cecil Street
#01-00
Singapore 069536
Contact Number: (+65) 6506 4215
Fax: (+65) 6228 1155
Email: [email protected]
SBI Bank Opening Hours
Monday, Tuesday, Wednesday, Thursday, Friday: 9.30am – 4.30pm
Saturday: 9.30am – 12.00pm
Sunday and Public Holiday: Closed
---
#3. SBI JURONG EAST BRANCH
Block 131 Jurong Gateway Road
#01-265
Singapore 600131
Phone Number: (+65) 6506 4277
Fax: (+65) 6228 1191
Email: [email protected]
SBI Singapore Opening Hours
Monday, Tuesday, Wednesday, Thursday, Friday: 11.00am – 6.30pm
Saturday: 9.30am – 12.30pm
Sunday and Public Holiday: Closed
---
#4. SBI SINGAPORE LITTLE INDIA BRANCH
Block 677 Rangoon Road,
(Location Opposite Farrer Park, MRT Exit A)
#01-02
Singapore 210677
Telephone Number: (+65) 6506 4211
Fax: (+65) 6228 1195
Email: [email protected]
Working Hours
Tuesday, Wednesday, Thursday, Friday: 2.00pm – 8.30pm
Saturday and Sunday: 1.00pm – 8.30pm
---
#5. SBI MARINE PARADE BRANCH
Block 83 Marine Parade Central
#01-564
Singapore 440083
Contact Number: (+65) 6506 4266
Fax: (+65) 6440 6852
Email: [email protected]
SBI Operating Hours
Monday, Tuesday, Wednesday, Thursday, Friday: 11.00am – 6.30pm
Saturday: 9.30am – 12.30pm
Sunday and Public Holiday: Closed
---
#6. SBI SINGAPORE BRANCH AT VERDUN ROAD
24 Verdun Road
Singapore 207282
Phone Number: (+65) 6506 4233
Fax: (+65) 6291 3819
Email: [email protected]
Opening Hours
Monday, Tuesday, Wednesday, Thursday: 9.30am – 4.00pm
Saturday and Sunday: 11.30am – 7.00pm
Friday: Closed
SBI Singapore ATMs
#1. SBI ATM at ALEXANDRA
Alexandra Retail Centre
460 Alexandra Road #01-K1 ARC
Singapore 119963
---
#2. SBI ATM at AMK MRT STATION (MACHINES ZONE)
2450 Ang Mo Kio Avenue 8,
Singapore 569811
---
#3. SBI ATM at ANG MO KIO
Block 710A Ang Mo Kio Avenue 8,
#01- 2633, Singapore 561710
---
#4. SBI ATM at CECIL STREET
135 Cecil Street,
#01-00, Singapore 069536
---
#5. SBI ATM at CHANGI AIRPORT TERMINAL 1
(Terminal 1), Changi International Airport, Airport Boulevard, Arrival Meeting Hall West (Opposite Belt 16)
Singapore 819642
---
#6. SBI ATM at CHANGI AIRPORT TERMINAL 2
(Terminal 2), Changi International Airport, Arrival Hall North (Near Escalator to MRT)
Singapore 918141
---
#7. SBI ATM at CHANGI AIRPORT TERMINAL 3
(Terminal 3), Changi International Airport, Airport Boulevard, Arrival Hall South (Opposite Taxi Stand)
Singapore 819663
---
#8. SBI ATM at FARRER PARK MRT
Farrer Park MRT Station, 250 Race Course Road
(North East Line), Opposite Sayon Shop
Singapore 218703
---
#9. SBI ATM at HOUGANG
Hougang Mall, 90 Hougang Ave 10, Level 4 (Beside food court)
Singapore 538766
---
#10. SBI ATM at JURONG EAST
Block 131 Jurong Gateway Road,
#01-265, Singapore 600131
---
#11. SBI ATM at MANDAI ZOO
Singapore Zoological Gardens, 80 Mandai Lake Road,
Singapore 729826 (Main Entrance)
---
#12. SBI ATM at MARINE PARADE
Block 83 Marine Parade Central, #01-564,
Singapore 440083
---
#13. SBI ATM at MARINA BAY
Marina Bay Sands, 10 Bayfront Avenue, Level B01 (ATM Lobby)
Singapore 018971
---
#14. SBI ATM at SERANGOON ROAD (LITTLE INDIA)
Syed Alwi Road (outside Ananda Bhavan), 95 Syed Alwi Road
Singapore 207670
---
#15. SBI ATM at SERANGOON ROAD (LITTLE INDIA)
Little India Arcade, 48 Serangoon Road, Little India Arcade, #01-09 Block A
Singapore 217959
---
#16. SBI ATM at SERANGOON ROAD (LITTLE INDIA)
Block 677 Rangoon Road, #01-02,
Opposite Farrer Park MRT (Exit A)
Singapore 210677
---
#17. SBI ATM at SENGKANG MRT
5 Sengkang Square (@ Sengkang North East Line (NEL) MRT Station)
Singapore 545062
---
#18. SBI ATM at TAMPINES MRT
20 Tampines Central 1
Singapore 529538
---
#19. SBI ATM at THE LEO
25 Kaki Bukit Road 3
Singapore 415815
---
#20. SBI ATM at VERDUN ROAD
24 Verdun Road
Singapore 207282
---
#21. SBI ATM at WOODLANDS MRT
30 Woodlands Avenue 2
Singapore 738343