List of Maybank branches in Singapore. Find locations and opening hours of Maybank Singapore branches and Maybank ATMs near you.
Maybank Overview
Maybank branches offer a full course of financial services designed distinctively for individuals, professional businessmen and business groups. For the convenience of its consumers, it has all 27 branches located in well-communicated places, business districts and suburban areas. Being a part of atm5 networks and QFB, it offers extensive reach of its customers enabling them access 150 ATM (27 own ATM) locations throughout the island.
The banking group is the achiever of 4 great certifications including Spring Singapore for Singapore's quality class start, Singapore's Service class, Singapore's innovative class and People's developer enterprise level. It employers over 1800 employees in its different branches and boasts a net worth of S $59 billion in Singapore.
Key Services of Maybank Branches
Consumer and corporate banking
Investment banking
Islamic banking
Stock broking
Insurance
Asset management and more
It has been identified by MAS or the Monetary Authority of Singapore as among the domestic systemically vital banks (D-SIBs) in the list of 7 major localized and foreign banks which have had played a significant role in Singapore's fiscal system and economy.
Here is the complete list of Maybank branches in Singapore. Find Maybank Singapore branches with opening hours, locations and contact numbers. You'll also find Maybank SWIFT code, contacts and your preferred Maybank ATM near you.
Maybank BIC is MBBESGSGXXX where MBBESGSG is Maybank SWIFT code and XXX stands for Maybank branch code from 001 to 022. Maybank bank code is 7302.
Maybank Singapore Contact Numbers
Auto Finance Hotline
– 6550 7888
– (+65) 6550 7888 from outside Singapore
9.00am to 6.00pm, Monday to Friday excluding Public Holidays
Business Banking Hotline
– 1800 777 0022
– (+65) 6777 0022 from outside Singapore
9.00am to 6.00pm, Monday to Friday excluding Public Holidays
Maybank Customer Service Hotline
– 1800 629 2265
– (+65) 6533 5229 from outside Singapore
Maybank Phone Banking Hotline
– 1800 484 2088
– (+65) 6484 2088 from outside Singapore
Private Wealth Hotline
– (+65) 6438 3888
Premier Wealth Hotline
– 1800 536 7888
– (+65) 6536 7888 from outside Singapore
List of Maybank Branches in Singapore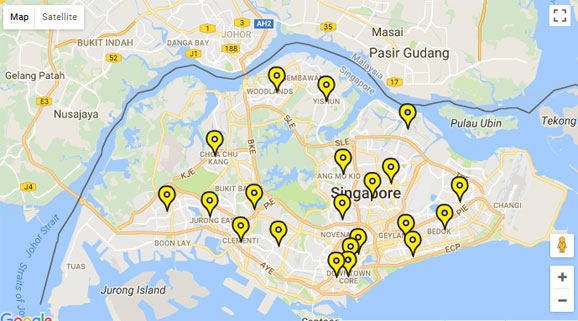 #1. Maybank Branch at Ang Mo Kio (AMK)
Block 710A Ang Mo Kio Avenue 8
#01-2627
Singapore 561710
Maybank Opening Hours
Monday – Friday: 9.15 am to 4.45 pm
Saturday: 9.15 am to 12.15 pm
Sunday and Public Holiday Closed
24-Hour Automated Service: ATM, Cash Deposit Machine, Fast Cheque Deposit, Passbook Update
---
#2. Maybank Branch at Bedok
Block 210 #01-699
New Upper Changi Road
Singapore 460210
Maybank Singapore Opening Hours
Monday – Friday: 9.15 am to 4.45 pm
Saturday: 9.15 am to 12.15 pm
Sunday and Public Holiday: Closed
24-Hour Automated Service: ATM, Cash Deposit Machine, Fast Cheque Deposit, Passbook Update
Business Centre Service
---
#3. Maybank Outlet at BtTimah
114/116 Upper Bukit Timah Road
Singapore 588172
Maybank Singapore Operating Hours
Monday – Friday: 9.15 am to 4.45 pm
Saturday: 9.15 am to 12.15 pm
Sunday and Public Holiday: Closed
24-Hour Automated Service: ATM, Cash Deposit Machine, Fast Cheque Deposit
Business Centre Service
---
#4. Maybank Branch @Chinatown
101 Upper Cross Street
#01-22 People's Park Centre
Singapore 058357
Maybank Banking Hours
Monday – Friday: 9.15 am to 4.45 pm
Saturday: 9.15 am to 12.15 pm
Sunday and Public Holiday: Closed
24-Hour Automated Service: ATM, Cash Deposit Machine, Fast Cheque Deposit, Passbook Update
---
#5. Maybank ChoaChuKang Branch
Block 303 Choa Chu Kang Avenue 4
#01-723
Singapore 680303
Working Hours
Monday – Friday: 9.15 am to 4.45 pm
Saturday: 9.15 am to 12.15 pm
Sunday and Public Holiday: Closed
24-Hour Automated Service: ATM, Cash Deposit Machine, Fast Cheque Deposit, Passbook Update
---
#6. Maybank Clementi Branch
3151 Commonwealth Ave West
#01-01/06 / #02-01/02 CityVibe
Singapore 129581
Banking Hours
Monday – Saturday: 11 am to 7 pm
Sunday and Public Holiday: Closed
24-Hour Automated Service: ATM, Cash Deposit Machine, Fast Cheque Deposit, Passbook Update
---
#7. Maybank GeylangSerai Branch
62 Changi Road
#01-01
Singapore 419713
Operating Hours:
Monday – Friday: 9.15 am to 4.45 pm
Saturday: 9.15 am to 12.15 pm
Sunday and Public Holiday: Closed
24-Hour Automated Service: ATM, Cash Deposit Machine, Fast Cheque Deposit, Passbook Update
Other Banking Services: SME Banking
---
#8. Maybank HDBHub Branch
Block 480 Toa Payoh Lorong 6
#01-11 HDB Hub
Singapore 310480
[email protected]
Block 520 Lorong 6
Toa Payoh HDB Hub #01-K1
(7 am to 10 pm) Automated Service: ATM, Cash Deposit Machine, Fast Cheque Deposit, Passbook Update
Self-Service Banking Facilities
At Branch (7 am to 10 pm): ATM, Cash Deposit Machine, Fast Cheque Deposit, Passbook Update
At HDB Hub – Near NTUC Fairprice: ATM
Opening Hours
Monday – Friday: 9.15 am to 4.45 pm
Saturday: 9.15 am to 12.15 pm
Sunday and Public Holiday: Closed
---
#9. Maybank HollandV Branch
247 Holland Avenue
Singapore 278979
Opening Hours
Monday – Friday: 9.15 am to 4.45 pm
Saturday: 9.15 am to 12.15 pm
Sunday and Public Holiday: Closed
24-Hour Automated Service: ATM, Cash Deposit Machine, Fast Cheque Deposit, Passbook Update
Other Banking Services: Premier Wealth Banking Centre
---
#10. Maybank JurongEast Branch
Block 131 Jurong Gateway Road
#01-249
Singapore 600131
Maybank Opening Hours
Monday – Friday: 9.15 am to 4.45 pm
Saturday: 9.15 am to 12.15 pm
Sunday and Public Holiday: Closed
24-Hour Automated Service: ATM, Cash Deposit Machine, Fast Cheque Deposit, Passbook Update
---
#11. Maybank JurongPoint Branch
63 Jurong West Central 3
Jurong Point Shopping Centre
#B1-01/02
Singapore 648331
Banking Hours
Monday – Sunday: 11 am to 7 pm
Public Holiday: Closed
Self-Service Banking Facilities (10 am to 10 pm): ATM, Cash Deposit Machine, Fast Cheque Deposit, Passbook Update
(Maybank Sunday Banking)
---
#12. Maybank Kovan Branch
996 Upper Serangoon Road
Singapore 534736
Banking Hours
Monday – Friday: 9.15 am to 4.45 pm
Saturday: 9.15 am to 12.15 pm
Sunday and Public Holiday: Closed
24-Hour Automated Service: ATM, Cash Deposit Machine, Fast Cheque Deposit, Passbook Update
---
#13. Maybank MarineParade Branch
Block 87 Marine Parade Central
#01-502
Singapore 440087
Banking Hours
Monday – Friday: 9.15 am to 4.45 pm
Saturday: 9.15 am to 12.15 pm
Sunday and Public Holiday: Closed
24-Hour Automated Service: ATM, Cash Deposit Machine, Fast Cheque Deposit, Passbook Update
Other Banking Services: Premier Wealth Banking Centre
---
#14. Maybank nex Branch
23 Serangoon Central
#B2-27 nex
Singapore 556083
Self-Service Banking Facilities (10.30 am to 10.30 pm): ATM, Cash Deposit Machine, Fast Cheque Deposit, Passbook Update
Banking Hours
Monday – Saturday: 11 am to 7 pm
Sunday and Public Holiday: Closed
---
#15. Maybank NorthBridge Branch
420 North Bridge Road
#01-36/02-36 North Bridge Shopping Centre
Singapore 188727
UOB Singapore Opening Hours
Monday – Friday: 9.15 am to 4.45 pm
Saturday: 9.15 am to 12.15 pm
Sunday and Public Holiday: Closed
24-Hour Automated Service: ATM, Cash Deposit Machine, Fast Cheque Deposit, Passbook Update
---
#16. Maybank Tampines Branch
Block 139 Tampines Street 11
#01-44/46/48
Singapore 521139
Banking Hours
Monday – Friday: 9.15 am to 4.45 pm
Saturday: 9.15 am to 12.15 pm
Sunday and Public Holiday: Closed
24-Hour Automated Service: ATM, Cash Deposit Machine, Fast Cheque Deposit, Passbook Update
---
#17. Maybank Branch at TextileCentre
200 Jalan Sultan
#01-02 Textile Centre
Singapore 199018
Business Hours
Monday – Friday: 9.15 am to 4.45 pm
Saturday: 9.15 am to 12.15 pm
Sunday and Public Holiday: Closed
24-Hour Automated Service: ATM, Cash Deposit Machine, Fast Cheque Deposit
Other Banking Services: Business Centre
---
#18. Maybank Tower
2 Battery Road
Maybank Tower
Singapore 049907
Banking Hours
Monday – Friday: 9.15 am to 4.45 pm
Saturday: 9.15 am to 12.15 pm
Sunday and Public Holiday: Closed
24-Hour Automated Service: ATM, Cash Deposit Machine, Fast Cheque Deposit
Other Banking Services: Premier Wealth Banking Centre, Business Centre
---
#19. Maybank WaterwayPoint Branch
83 Punggol Central
#01-12 Waterway Point
Singapore 828761
Banking Hours
Monday – Sunday: 11 am to 7 pm
Public Holiday: Closed
Self-Service Banking Facilities At Branch (10 am to 10 pm): ATM, Cash Deposit Machine with Passbook Updating Function, Fast Cheque Deposit
---
#20. Maybank at Woodlands888
Block 888 Woodlands Drive 50
#02-731 888 Plaza
Singapore 730888
Banking Hours
Monday – Friday: 9.15 am to 4.45 pm
Saturday: 9.15 am to 12.15 pm
Sunday and Public Holiday: Closed
24-Hour Self-Service Banking Facilities (At the Branch): ATM, Cash Deposit Machine with Passbook Updating Function, Fast Cheque Deposit
---
#21. Offsite at Woodlands888
Block 888 Woodlands Drive 50,
#01-K5
Singapore 730888
Banking Hours
Monday – Friday: 9.15 am to 4.45 pm
Saturday: 9.15 am to 12.15 pm
Sunday and Public Holiday: Closed
24-Hour Self-Service Banking Facilities (At Ground Floor), near NTUC Fairprice, Woodlands 888 Plaza: ATM, Cash Deposit Machine with Passbook Updating Function
---
#22. Maybank Branch at Yishun
930 Yishun Avenue 2
#01-16 Northpoint
Singapore 769098
24- Hour Self-Service Banking Facilities: ATM, Cash Deposit Machine, Passbook Update, Fast Cheque Deposit
Maybank Branch Opening Hours
Monday – Saturday: 11 am to 7 pm
Sunday and Public Holiday: Closed
Maybank ATM in Singapore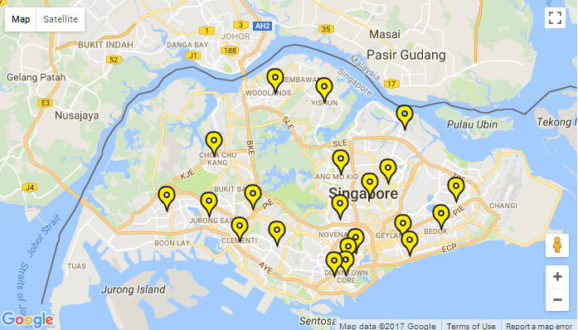 #1. Maybank ATM at AMK
Block 710A Ang Mo Kio Avenue 8
#01-2627
Singapore 561710
---
#2. Maybank Offsite ATM at Balestier
400 Balestier Road
#01-13 Balestier Plaza
Singapore 329802
---
#3. Maybank Bedok ATM
Block 210 #01-699
New Upper Changi Road
Singapore 460210
---
#4. Maybank BtTimah ATM
114/116 Upper Bukit Timah Road
Singapore 588172
---
#5. Maybank Chinatown ATM
101 Upper Cross Street
#01-22 People's Park Centre
Singapore 058357
---
#6. Maybank ChoaChuKang ATM
Block 303 Choa Chu Kang Avenue 4
#01-723
Singapore 680303
---
#7. Maybank Clementi ATM
3151 Commonwealth Ave West
#01-01/06 / #02-01/02 CityVibe
Singapore 129581
---
#8. Maybank GeylangSerai ATM
62 Changi Road
#01-01
Singapore 419713
---
#9. Maybank ATM at HDBHub
Block 480 Toa Payoh Lorong 6
#01-11 HDB Hub
Singapore 310480
---
#10. Maybank ATM Offsite at HDBHub
Block 520 Lorong 6
Toa Payoh HDB Hub #01-K1
Singapore 310480
---
#11. Maybank HollandV ATM
247 Holland Avenue
Singapore 278979
---
#12. Maybank Offsite ATM at IMM
2 Jurong East Street 21
#01-C12
IMM Building
Singapore 609601
(Near Burger King)
---
#13. Maybank Offsite ATM at Kidzania
Kidzania, 31 Beach View
Sentosa
Singapore 098008
---
#14. Maybank JurongEast ATM
Block 131 Jurong Gateway Road
#01-249
Singapore 600131
---
#15. Maybank JurongPoint ATM
63 Jurong West Central 3
Jurong Point Shopping Centre
#B1-01/02
Singapore 648331
---
#16. Maybank Kovan ATM
996 Upper Serangoon Road
Singapore 534736
---
#17. Maybank MarineParade ATM
Block 87 Marine Parade Central
#01-502
Singapore 440087
---
#18. Maybank nex ATM
23 Serangoon Central
#B2-27 nex
Singapore 556083
---
#19. Maybank NorthBridge ATM
420 North Bridge Road
#01-36/02-36 North Bridge Shopping Centre
Singapore 188727
---
#20. Maybank Offsite ATM at RobinsonRd
16 Raffles Quay
#01-04 Hong Leong Building
Singapore 048581
---
#21. Maybank Offsite ATM at ResortWorldSentosa
26 Sentosa Gateway
B1 Forum
Singapore 098138
---
#22. Maybank Tampines ATM
Block 139 Tampines Street 11
#01-44/46/48
Singapore 521139
---
#23. Maybank TextileCentre ATM
200 Jalan Sultan
#01-02 Textile Centre
Singapore 199018
---
#24. Maybank Tower ATM
2 Battery Road
Maybank Tower
Singapore 049907
---
#25. Maybank Offsite ATM at WismaAtria
435 Orchard Road #B1-K2
Wisma Atria
Singapore 238877
---
#26. Maybank ATM at WaterwayPoint
83 Punggol Central
#01-12 Waterway Point
Singapore 828761
---
#27. Maybank ATM at Woodlands888
Block 888 Woodlands Drive 50
#02-731 888 Plaza
Singapore 730888
---
#28. Maybank Offsite ATM at Woodlands888
Block 888 Woodlands Drive 50
#01-K5
Singapore 730888
---
#29. Maybank ATM at Yishun
930 Yishun Avenue 2
#01-16 Northpoint
Singapore 769098