ACE Insurance Singapore is recognized as one of the globally largest providers of broad-spectrum insurance products and services pertaining to personal and business; health and accidental in addition to property and casualty. Led by ACE Insurance Limited the fastest developing major insurance group has been operational in 54 countries crisscross worldwide.
ACE Insurance Overview
The enterprise emerged as a gigantic general, property and casualty insurance provider following its acquisition of The Chubb Corporation which is another globally leading insurance specialist group. With a financial rating "A++" subsequent to combining, ACE Insurance has adopted the name of Chubb as its brand. With its extensive insurance product range from General to Casualty, Personal accident, Commercial loss and Life insurance; unparalleled financial strength; customer satisfying claim settlement services the company aims to hoist its name as the world's No 1 Insurance company in the forthcoming years.
Top Demanding Services Offered by ACE Insurance Singapore

ACE Personal Insurance
When it comes to personal insurance, the company brings widespread accidental insurance policies for its clients with high coverage and benefits. With its 'Smart Life Builder' (patent product) one can enjoy coverage up to the level of $300,000+ other benefits for severe most accidents causing permanent disabilities or death.
ACE Dental Care Insurance
Supported by Chubb Dental Care Plus (Trade Mark) policy, you can attain regular dental check that helps stay away from varieties of common and critical dental complications and ensures physical wellbeing. Just by paying a premium @ $0.82/ day you are entitled to get 80% on all emergency dental and oral treatment, routine care and x-ray services in network clinics; dental care treatment for 4 nominated heads of your family with 25% cashless price in clinics under network. In addition, you also enjoy dental coupons for $150 backed by 2 years policy coverage with solid dental service network.
ACE Hospitalization Insurance
You can reduce your hospital stay bills to a great extent with a demanding policy like 'Smart Health Builder' promoted by Chubb. As the policy takes care of your daily expenses for hospitalization, it also covers some common illnesses. During hospitalization, you get cash benefit up to the level of $200 per day while; in case you are admitted in ICU; the payout will be the two times. In case of hospitalization period extends over 7 successive days, the daily coverage amount can increase up to $500 per day.
ACE Loss of Property Insurance
Outfitted with 'Card-Secure', a trademark policy, you can avoid all major losses caused by missing wallet and debit, credit or ATM cards that are registered with the company. The policy covers fraud protection up to the limit $3,000 for lost/ stolen cards as well as personal documents. Up to 4 members of a family can get the benefit of loss coverage on an overseas trip. Online purchase frauds are also covered under the policy.
ACE Travel Insurance

Covered with Travel Insurance, one can make a leisure travelling course more relaxing. No matter, whether you are a seasoned traveler or an occasional tourist, protected with custom made travel insurance of Chubb you can always stay out of risk.
Coverage area and benefits
Journey cancellation/ curtailment
Overseas medical emergency expenses
Passport, Visa or other travel documents/ Luggage
Terrorism / Travel Disruption
Personal accidents
ACE High Value Belongings Insurance
The mastermind insurance schemes are ready to take care of your losses/damages of high value from Deluxe home to Art or Jewelry collections. The specialist insurance group offers its high value insurance on five categories as under:
Insurance and coverage of your deluxe apartment, home and its contents;
Insurance and coverage of loss/damage or your rare worthy art collection;
Insurance and coverage of your valuable jewelry collections and uphold your peace of mind;
Insurance and coverage of all valuable articles from homes to watches and antique to pricey belongings;
Established in 1948, ACE is now packed with Chubb which is technically extremely sound and expert in risk management issues related to all general insurance fields. Outfitted with more than 30000 workforce spread worldwide, high level business management skill sets and state-of-the-art insurance policies the consistent insurance group can be your best insurance service provider and advisor.
When it comes to the world of Commerce and Business, the community provides varieties of insurance schemes depending on the type of business, you're involved in. It also offers Marine insurance, Group personal Accident Insurance and specialist in Cargo insurance policies. To know comprehensively about the policies, T&C please get through the corporate website of the corporation.
ACE Insurance Singapore Contact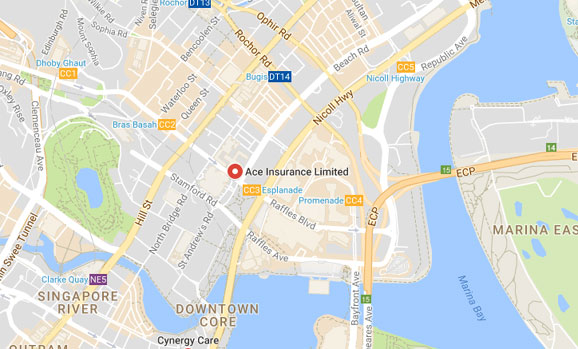 Singapore Head Office
600 North Bridge Road
#04-02 Parkview Square
Singapore 188778
Contacts
Phone Number: (+65) 6398 8000
Fax Number: (+65) 6298 1055
Customer Service
ACE Accident & Health Insurance
Contact No.: (+65) 6299 0988
Email: [email protected]
ACE Travel Insurance
Contact No.: (+65) 6398 8776
Email: [email protected]
ACE Personal Lines
Contact No.: (+65) 6299 0988
Email: [email protected]